Malaria Control in Malawi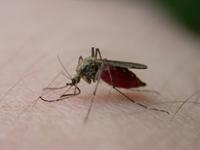 Malaria is spread by the bite of infected mosquitoes
CHICAS is working with colleagues in Malawi to develop a monitoring & evaluation tool, which will be applied to assess the progressive impact, over time and geographical space, of a five-year malaria control programme covering the population living in the Majete Wildlife Reserve.
Researchers from Wageningen, Amsterdam, Malawi and Liverpool are conducting the control programme, where interventions will consist of early diagnosis and treatment, mass coverage of insecticide-treated bed nets, house improvement and larval source management. Special attention is being paid to community involvement, to ensure a lasting and sustainable effect of the malaria control interventions through the creation of malaria animators and community-based malaria action teams.
The overall aim of the project is to achieve a reduction of 80% or more in malaria-associated morbidity and 50% or more in malaria prevalence.