Immunotherapy and Palliative Care Trajectories (IMPACT)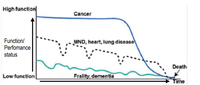 Immunotherapy helps the immune system (which protects the body against infection, illness and disease) to recognise and kill some types of cancer cells. We understand how immunotherapy works but very limited attention has been given to understanding the variable responses experienced by cancer patients receiving immunotherapy in the real-world setting. People with advanced cancer typically are helped by referral to palliative care services, with benefits seen in pain, symptoms and managing the stress of serious illness. However, those receiving immunotherapy may not be referred at the right time because of different expectations about a response to these new treatments. If we understand more about how these patients receiving immunotherapy respond or decline over time we will be able to target referrals better and improve communication about what patients can expect. This project, in collaboration with Christie NHS trust will investigate the drivers of differences in experiences of receiving cancer treatment, and will inform North West, and possibly national, cancer care.
The project is led by Division of Health Research in Lancaster Medical School with statistical support provided by CHICAS staff.