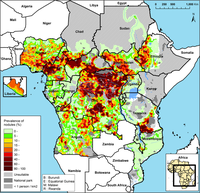 Map of the predicted river-blindness prevalence using model-based geostatistical methods.
Geospatial Statistics
The geospatial statistics theme covers the development of statistical methodology motivated by and applied to problems in population health research where the locations of health outcomes in geographical space play an important role in their interpretation. The group works in both developed and developing country settings, but has a global health focus that is pursued through strong collaborative links with low and middle income countries in Africa, South America and southern Asia.
Population Health Data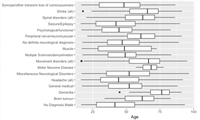 Routinely collected data allows us to characterise patients who have a neurology hospital appointment. In this picture we can see the variation in age by diagnosis.
Novel health datasets available to research communities such as routinely collected data can be used to answer a wide range of data-driven research questions that can directly benefit health research and practice. Using these data, projects within the group cover a range of areas including epidemiology, diagnostic accuracy and health service improvement. We apply existing methods as well as developing new ones with a number of clinical foci including Neurology, Respiratory and Mental Health Services as well as Care Homes. The group works with a diverse range of local and national organisations such as the Office for Health Improvement and Disparities (OHID), Office for National Statistics (ONS), the Integrated Care System and Public Health services within the local government. In addition we support local NHS data science projects and groups.
Infectious Disease Modelling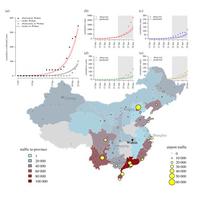 In January 2020, we produced one of the first estimates of pandemic potential for SARS-CoV-2 coronavirus.
Infectious diseases have health and economic impacts for both humans and livestock. The CHICAS group works with partners in low-, middle- and high-income countries to better understand the epidemiology of infectious diseases, and how and where they transmit. We develop statistical methodology and generate scientific insights to provide timely information and understanding of epidemics to inform their control and eradication. Our projects include a range of applications (including SARS-CoV-2, influenza and foot-and-mouth) with national and international academic and public/animal health partners including Public Health England, the Department of Health and Social care, the Centre for Disease Control and the World Health Organization.